About as genuine a Ginger Beer that you can get – even if you made it yourself. This is a well crafted , balanced drink made with fresh Peruvian root ginger, raw cane sugar and Sicilian lemon juice. Packs a punch with its distinctive but not overpowering heat. A classic, coveted by ginger beer lovers the world over.
Food pairing
The Hot ginger beer is a beautiful match for Asian cuisine, especially sweet and sour dishes. Serve with barbecued chicken and pork, or any dish that features a sweet glaze or marinade.
Perfect serve
Add a slice or a curl of lemon or Lime to compliment the ginger, serve over ice.
Comes in cases of 24 bottles, each of 270ml.
Out of stock
Next day delivery
No minimum order

You May Like
Fruit Juice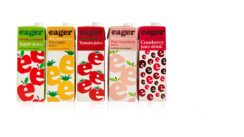 Mixers etc.